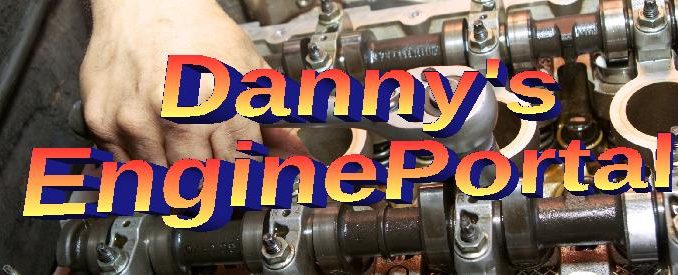 DannysEnginePortal.com
So, An engine repair problem is something nobody wants. But after so many miles, engine parts wear out and fail, and will have to be replaced.
Choose Your Engine Help Topics Below:
Automotive Fuel System – Delivers Fuel To The Engine As Needed
Analyzing Poor Performance Issues – Knowing What To Do
Basic Engine Topics – Hard Metal Components Inside Of An Engine
Cooling System Diagnosis – Keeping The Engine An Efficient Temperature
Diagnosing And Correcting Leaks – Any Leak Needs To Be Fixed
Electrical System Problems – Troubleshooting Electrical System Problems
Emission Control – Pollution Control Devices Manage Fuel Control
Engine Codes – Warn You If The On-Board Diagnostics Detects A Problem
Engine Reviews-The Good-The Bad And The Ugly
Exploring Engine Noises – Spend Time Diagnosing Not Fixing
General Car Maintenance – Your Owners Manual Is Your Bible
Engine Lubricants And Oils – Essential Fluids That Keep Your Car Alive
Engine No Start Conditions – For Some Reason Your Engine Did Not Start
Overheating Topics – So, How Hot Is Too Hot
Engine Sealing – Gaskets And Seals – Knowing The Facts
Engine Testing Procedures and Fixes – You Can Solve Almost All Of Them
Miscellaneous Topics – Miscellaneous Car Problems Section
Motorcycle-ATV – Keep Doing What You Love Best
Also, Helpful Links !
So, Many vehicle problems can be solved with a basic understanding of auto maintenance and repair. Also, It's worth trying to figure out what's wrong before hauling it down to a repair shop.