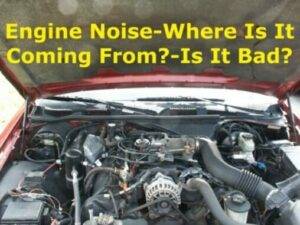 Exploring Engine Noises can be tricky to decipher, but most of them can be decoded right in your driveway.
Choose Your Help Topic Below
When exploring engine noises, don't forget basic techniques like running it with the drive belts removed, dropping the transmission into Drive and checking for broken accessory mounts. In conclusion, it's always wiser to spend more time diagnosing and less time fixing.
When an unfamiliar noise starts coming from somewhere under the hood, people get scared. Consequently, They may not know enough about complex engine systems to know if it's something to worry about or not. So, Let's discuss some of the source areas mechanics find to be the most common places for engine noises to originate from.