I know is it still early but………… As the weather begins to warm, ever so slightly, motorcyclists everywhere are itching to get out there and ride. However, before you begin riding your bike anywhere there are two things you need to first do. One, make sure you have the right insurance (you can compare scooter insurance here) and two, make sure that the vehicle can be driven.
In light of the ensuing season, I wanted to bring you some tune-up tips that can get you started and your motorcycle ready for riding, before you ride.
I always recommend you refer to your owner's manual for specifications, tips and regular maintenance schedules, but this should get you started.
If you do not test it before you leave the driveway, inevitably something fails, especially on the first ride.
Motorcycle Spring

Tune Up

Tips:
Motorcycle-Check the air pressure of your tires. Inflate to the pressure specified in your owner's manual.
Look for wear-and-tear on the treads; cracks, bulges or embedded objects indicate stress on the tire and may need to have the tire replaced/repaired.
Have a good look at your wheels (rims) for roundness, cracks and dents.
Look for bent, broken or missing spokes. As a result replace if necessary.
Review the levers to make sure they are still lubricated, adjusted and fitted properly.
They should not be:
Inspect cables to make sure they are not frayed, kinked, or folded into sharp angles. Also, test to make sure your bike's cables, at no time, interfere with your ability to steer.
Check hoses for cuts, cracks, leaks, bulges, chafing or deterioration. Like cables, hoses should not interfere with your steering or suspension, and should not be folded into sharp angles. Test that the throttle moves freely, does not stick and snaps closed when released.
If you removed your battery over the winter, install it—your owner's manual should tell you how. Check the battery to make sure the terminals are clean and tight. Charge and test it before installation.
Look over the lenses on the bike to make sure they are not:
Cracked or broken
Mounted securely
Do not have excessive condensation trapped within
Condensation is a sign of a broken seal which may need replacing.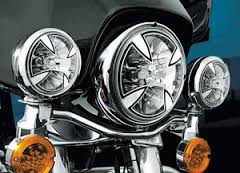 Water and electricity just don't mix and condensation makes for lousy reflections. Furthermore check to ensure the reflectors are not cracked, broken and are securely mounted.
Review the bike's headlamp for cracks. Also confirm it points at the right height and direction.
Check the operation of the high beam and low beam options. Test the tail lamp and brake lights to make sure they work when they should, and they are not cracked.
Test both of the turn signals – left and right!
Check the levels and quality of:
Engine oil
Hypoid gear oil
Shaft drive
Hydraulic fluid
Coolant and fuel
As a result replace or top-up fluids that need it. Also check for leaks of these same fluids.
Review the condition of the frame, looking for lifting paint, cracks, or dents. Check the tension of the belt or chain. Also lubricate the chain if needed. Inspect the teeth of the sprockets confirming they are not hooked and are properly mounted. Finally replace broken or missing fasteners and tighten if loosened.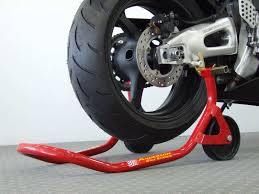 For both centre stands and side stands, make sure they are not cracked or bent and that it springs into place. Also it has the required tension to hold the bike in position. The other parts of this tune-up are for the rider. Make sure you have your ownership and insurance in your wallet.
Now that it's riding season, you may as well just keep it there. Ensure you sticker is up-to-date and renew it if your birthday has come and gone. Get out the rain suit… yeah, yeah, you're no wimp but if you have it with you, you can at least put it on and still ride. If you're out riding its a good idea to make sure you have the best insurance quote possible. My friend got their quote from Money Expert and they are so happy with the savings.
I would recommend you to consider a mechanic if any of the above you have real issues with. It's always good to get your bike serviced and checked over if it's been off the road for a while. If you can't get the bike to the mechanic, considering a courier from the Shiply website might be a safe option, as you know your bike will be safe and secure in transit to the mechanic and back to you.
I really should not have to talk about riding gear, as safety is the key here, but I feel it necessary anyway:
In conclusion Helmet, leather gloves, leather jacket/pants or jeans, riding boots and protective eyewear are things you should never ride without. Start safe…. ride safe….. stay safe….
PLEASE SHARE ENGINE PORTAL NEWS