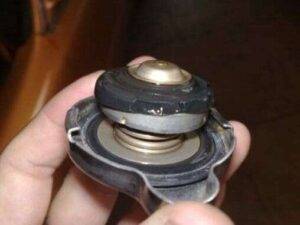 A bad radiator caps can cause a lot of cooling system problems.  You may think, the only purpose of your rad caps is for adding coolant, but it is not.
Choose Your Help Topic Below
Radiator Cap – How Important Is Your Radiator Cap
Radiator Caps – This Fairly Cheap Part Is More Important Than You Think
Bad Radiator Cap – A Cheap Fix For A Potential Disaster
Coolant-Antifreeze – Engine Cooling And Testing Made Easy
Engine Coolant Leaks – How To Find Them – How Bad Are They
While rad caps look simple and do not cost much, they are critical for a properly Operating cooling system. So, A faulty radiator cap can result in overheating, loss of coolant or major engine damage.
Also, It is important to check it periodically and replaced if necessary. Consequently, Pressurized cooling systems help prevent overheating and coolant loss. Finally, This raises the coolant boiling point about 3-degrees F for each additional psi above atmospheric pressure.