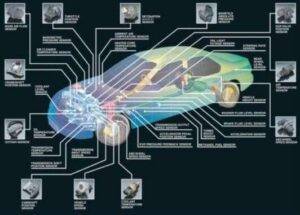 Also, Sensor-Relays-Actuators. Consequently, They all work together to provide the car's Engine Control Unit with vital data parameters essential to govern various engine functions effectively.
So, Like anything else, a sensor wears out, corrode, or become dirty. As a result, This essentially blinds the computer and triggers the dreaded check engine light.
Choose Your Help Topic Below
Why Are Automotive Sensors So Important Today
(KS) – Knock Sensor – Things That You Need To Know
(O2) Oxygen Sensor – They Monitor The Levels Of Fuel Mixture
(CPS) Crankshaft-Camshaft Sensor Are Required By Distributorless Ignition.
(ECT) Engine Coolant Temperature Sensor-What You Need To Know
(MAF) Mass Air Flow Sensors – Getting The Correct Amount Of Air
Intermittent Temperature Related Engine Problems
Engine Problems – What Are The Most Common Engine Problems
Modern computer-controlled vehicles also must have the proper mixture of air and fuel ignited at the proper instant in order to operate.