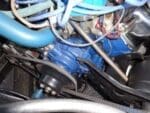 Water Pump, Keeping Things Cool.
Water pumps are great for circulating coolant through the engine to draw heat away from vital parts.
If the car's water pump is not working, the most common reasons would be from contamination in the fluid, high levels of vibration or a lack of balance in the load. Fluid contamination often brings abrasive items in contact with the pump, leading the shaft seal to fail prematurely.
---
Search Our Site or Choose Your Topic Below !
Stay tuned for more updates on:

Water Pump.