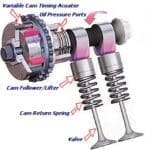 Variable Valve Timing (VVT), Does Away With Fixed Values of a Camshaft.
Back in the day, a car's intake and exhaust valves opened a specific amount at a specific point in the four stroke cycle, and for a specific amount of time. It was that simple.
Nowadays, however, many engines can not only change when their valves open, but also how much they open and for how long – that is, new cars can change valve timing, valve lift, and valve duration. As great as  variable valve timing (VVT) is, it is also vulnerable to some problems.
---
Search Our Site or Choose Your Topic Below !
Stay tuned for more updates on:

Variable Valve Timing (VVT).