OBD-II – Generic Powertrain Trouble Codes
This list contains standard diagnostic trouble codes (DTC's) that are used by all manufacturers to identify OBD-II vehicle problems.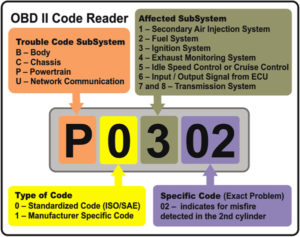 I hope you find something useful from our site, and remember to refer a friend!
Our goal is to provide you with the knowledge to know what is going on with your car when the OBD-II check engine light comes on.
This allows you not only to potentially diagnose a concern yourself, but also to make informed decisions when having your car serviced by a shop.
With the potential costs associated with diagnosing and repairing generic check engine light codes, as well as manufacturer specific codes, knowledge is power!
---
---
Choose Your Help Topic Below
---
---
There's no need to memorize the format of the codes because you can read the codes with the free version of the OBD Auto Doctor car diagnostic software.
If your car has the Check Engine Light on, it means that the vehicle has one or more confirmed OBDII trouble codes active.