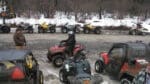 Motorcycle-ATV-Miscellaneous Topics.
It's that feeling you get when you twist the throttle. The adrenaline pumping and the wind in your face. We ride because it is our passion and it is what we love to do.
This is such a large category so we will just post some facts and fun stuff.
---
Now let's talk about:

Motorcycle-ATV.
The quickest way to find answers is to select your topic from the list below. We have also added a custom search bar as a second option.
Custom Search
Select Your Topic Below From: 

Motorcycle-ATV.
Stay tuned for more updates on:

Motorcycle-ATV.