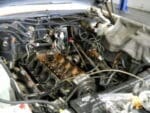 Mechanical Problems Usually Start Off Small And End Up Big.
A visual inspection of the engine is the first step in proper diagnostics.
Recognize that the working engine is composed of a series of mechanical events that are interrelated.
STOP / LOOK / LISTEN

– Is something to keep in mind.
---
Search Our Site or Choose Your Topic Below !
Stay tuned for more updates on:

Mechanical Problems.