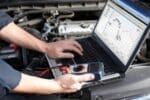 Engine Testing Procedures and Fixes That Can Help Save You Time and Money.
Every car is different, but the myth foreign cars require special tools isn't exactly true. Nearly all cars use basic nuts and bolts for the most common repairs you need to make.
Yes, A good tool set is needed to make most repairs. There are also tons of diagnostic tools and testers. Some can get very costly while other are cheap enough to buy and do the testing by yourself. We will go over some of the basic testing procedures that may help you get back on the road. Remember you decide if it's worth the time and effort to do it yourself.
---
Search Our Site or Choose Your Topic Below !
Stay tuned for more updates on:

Engine Testing Procedures and Fixes.