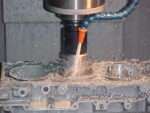 Engine Machining is usually done by a machinist at a machine shop.
If you have any equipment to do your own work some of these topics may help. If not and you are going to start a project or do a repair you will need to find the right shop.
Once you have found a machine shop that has the experience, the right equipment and is within your comfort level, you should talk to the machinist about your machining requirements.
The more that you understand about the machining process, the more intelligent questions you will be able to ask. Asking the right questions and getting the best answers will assure that you will be happier with the end results.
A good machinist will help guide you through the process of selecting the right parts and making the best machining decisions to meet the goal that you are trying to achieve with the rebuild or repair.
---
Now let's talk about:

Engine Machining.
The quickest way to find answers is to select your topic from the list below. We have also added a custom search bar as a second option.
Custom Search
Select Your Topic Below From: 

Engine Machining.
Stay tuned for more updates on:

Engine Machining.