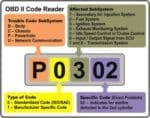 Engine Codes, Being Able To Read Them Can Be A Valuable Tool.
With today's unlimited number of sensors and computers having a code reader is a must for anyone willing to tackle their own repairs.
Until recently, an OBD-II code reader tool code reader was not typically found in the do-it-yourselfers tool box. For working on 1996 & newer vehicles, however, it can be really useful.
An OBD-II code reader is an electronic device that allows you to plug into your computer's OBD diagnostic port and access technical information.
---
Search Our Site or Choose Your Topic Below !
Stay tuned for more updates on:

Engine Codes.