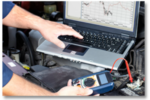 Analyzing Poor Performance Issues is not easy and may be one or many faults at the same time.
When diagnosing an engine problem, it is important to take a logical and methodical approach, and to fix what is known to be wrong first, instead of assuming that it could not be the main culprit.
---
Search Our Site or Choose Your Topic Below !
Stay tuned for more updates on:

Analyzing Poor Performance Issues